FTC: We may earn money or products from the companies mentioned in this post. More.
The name gives it away, but the DJI Mavic Mini is the smallest and lightest of all the drones in the Mavic series. It's not just low on weight either, but comes with a relatively affordable price tag that makes it an enticing option for anyone. Does this drone make you want to fly more (pun intended)? Let's find out in this quick DJI Mavic Mini review.
Introducing the Mavic Mini
The Mavic Mini weighs just 249g. If that number seems odd to you, don't worry, you're not the only one to have noticed. In fact, a take-off weight of 249g is a very deliberate decision on the part of DJI to get around certain requirements and restrictions.
Any drone weighing more than 250g needs to be registered with transport authorities before you can take them out for a spin. In countries like Canada, you'll also need to get at least a basic pilot certificate as well. If you don't want to go through the hassle, even if it is a simple enough process, the Mavic Mini is literally tailor-made for you.
It's diminutive and light-weight nature shouldn't fool you though. It's packed with attractive features and is really impressive for what is an entry-level drone. Features like Quick Shots, a 3-axis gimbal, and an impressive flying range (more on this later), makes the Mavic Mini a great buy.
Buy Now – Amazon CA | Amazon US | DJI Store
Design and camera
We'll keep mentioning that the Mavic Mini is lightweight. It's also an ultra-portable device that you can fold and even fit in your pocket. It's a good-looking drone too and certainly looks the part. No one is going to accuse you of playing with a "toy" when this drone is on hand. A microSD card slot is conveniently located on the back.
It comes with a 1/2.3-inch camera sensor that shoots 2.7K video at 30fps and 1080p at 60fps. You can take 12MP photos as well. Overall, those are great specs for capturing great content. Recorded footage is sharp, clear, and looks fantastic.
The 3-axis gimbal allows for cinematic footage akin to what you'd get from a more high-end and far more expensive drone. The included GPS and Vision Sensors help the Mavic Mini hover precisely both indoors and outdoors. And because of its incredibly compact size, you can fly it in smaller spaces and through tight gaps with ease.
Let's talk numbers
The weight, camera quality, and design are of course important factors. But what can often make or break a drone's attractiveness is the flying range and how long the battery lasts.
The transmission feeds to the controller via Wi-Fi, unlike the larger Mavics that use OcuSync 2.0 technology. The Mavic Mini offers up to 4km of HD video transmission on the FCC model that is only sold in North America. On the other hand, the CE compliant model comes with a 2km range, which isn't bad by any means.
Battery life is an absolute game-changer though. The DJI Mavic Mini is rated to give 30 minutes of flight time, and I've gotten really close to that number in my experience. The first time I took the drone out, I managed to push the battery for around 28 minutes. I couldn't really test the range though, since there's a rule that you have to keep the drone in your line of sight at all times.
Should you get the Fly More combo ?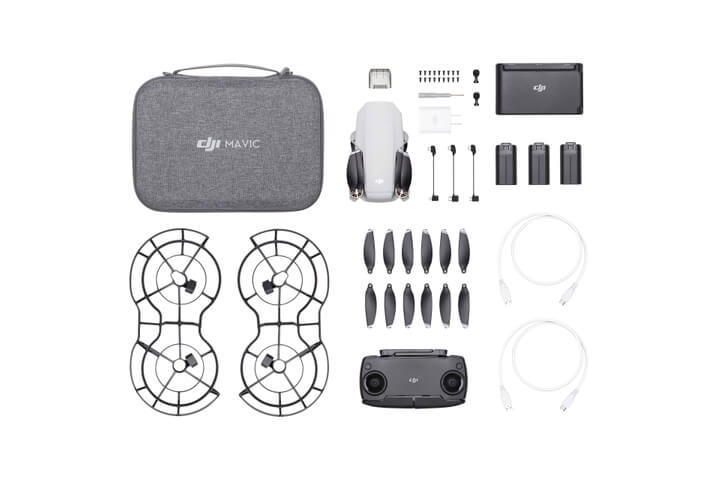 The fly more combo comes with 3 Intelligent Flight batteries, a 360° Propeller Guard, an extra pairs of propellers, a two-way charging hub, and a carry bag to keep both the drone and your accessories safe. This has everything you need to get going.
You can get up to 90 minutes of flight time with the extra batteries in this kit. They charge via a microUSB port on the charging hub that supports 18W fast charging. The Two-way charging hub lets you charge all three batteries in sequence to get you back in the air quickly. The hub can also act as a power bank to charge other devices like controllers or a phone.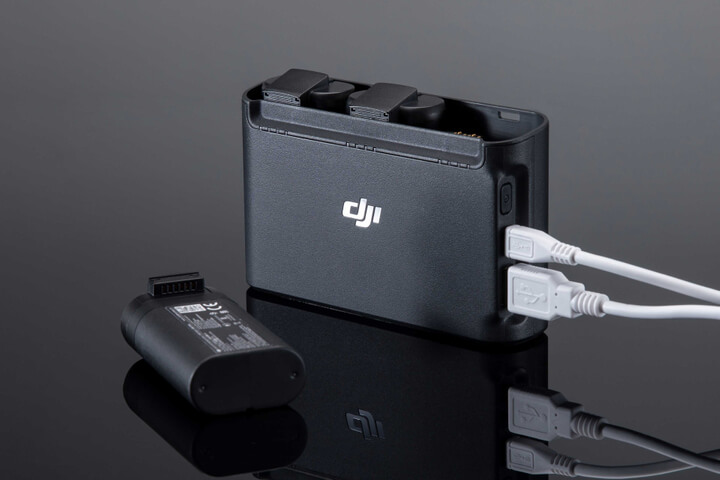 The Fly More combo is a touch expensive and you might feel like you don't need it right now. However, I couldn't recommend this highly enough. If your drone enthusiasm goes even slightly beyond the beginner level, you'll start buying extra batteries and accessories at some point down the road. The Fly more combo offers everything you'll need in a convenient package.
If nothing else, this combo is worth it for the three extra batteries and the two-way charging hub. The latter in particular is certainly going to make your life much easier!
What's missing
The DJI Mavic Mini is quite affordable and basically an entry-level drone, so it is missing some key features. Some I miss in particular like gesture controls and active track and collision detection sensors. It's certainly disappointing because these are all features that are available with its predecessor, the DJI Spark.
Advanced features like OcuSync 2.0, a 4K camera, optical zoom, and the ability to shoot panoramic shots and time-lapse videos are also missing. However, that isn't really a case of "missing" features as much as things that are reserved for DJI's higher-end models.
Final thoughts
The DJI Mavic Mini is small, light, and relatively economical with a starting price of just $349. There are obviously some trade-offs to keep everything, from the weight to the price, at the lower end of the spectrum. A Mavic Pro this is not. The biggest drawback for professional videographers is the lack of 4K video. But again, a professional is probably not going to keep the Mavic Mini long-term.
That said, the Mavic Mini isn't a drone just for beginners. Its ultra-portable nature means that you can carry it around with ease, quickly take some great-looking and cinematic shots, and keep flying for a long time. It is extremely efficient and balanced, and will be a great addition to any aerial photographer's collection, be it an amateur enthusiast or a consummate professional.
If you are looking for a drone with more advanced features, and can stretch your budget a little bit, check out the all-new Mavic Air 2.
Buy Now – Amazon CA | Amazon US | DJI Store