FTC: We may earn money or products from the companies mentioned in this post. More.
The Mavic Air is an extremely popular choice for a lot of aerial photography enthusiasts and people who just love flying drones, by managing to find a great balance between price and features. Given how fast technology advances, even the 2018 Mavic Air is "old" now, and DJI was primed to release a successor. Well, today is that day! Following a steady stream of rumors and leaks, DJI officially took the wraps off of the Mavic Air 2. Here's everything you need to know.
A more refined design
While nothing could be confirmed until the official launch a few minutes ago, the Mavic Air 2 was definitely the worst-kept secret in the tech space. However, these leaks only served to get the hype train going even faster, and it's great to see all the rumors everyone was really excited about end up being true.
Getting the most out of your drone begins with the design. Granted, DJI's consumer-level drones stick to a general design language. However, things move more towards the high-end with the Mavic Air 2. Its design is far more reminiscent of the Mavic 2 Pro than the original Mavic Air. And the much sleeker design pays off in a huge way! (more on this later).
The essence stays the same though. It's compact and can be folded, making for a very portable drone. It's also worth mentioning that while the Mavic Air 2 looks the part, some high-end features like upward facing sensors aren't available. Understandably, DJI wants to keep certain things for its premium offerings. That's not to say that the Air 2 is lagging far behind though. And that starts with the camera.
The camera gets even better!
The Mavic Air 2 boasts a massive upgrade in the camera department when compared to its predecessor as well as other affordable DJI options like the Mavic Mini. It now comes with a Sony IMX586 sensor, the same one that is found with a lot of premium current-generation smartphones. It's capable of taking 48MP photos and shooting video in 4K 60fps, with a 3-axis stabilizer ensuring that all recorded footage looks fantastic.
It's not just the sensor that is an improvement either, and the feature pack that backs it up gets better as well. Proprietary DJI features like intelligent flight modes including Active Track 3.0, APAS 3.0 obstacle avoidance, 8K Hyper lapse, QuickShot, and advanced pilot systems, to name a few, take things to a whole new level. Taking cinematic shots with the Mavic Air 2 should be an absolute breeze.
Of course, we'll have to do more hands-on testing before we can offer a final verdict on the camera quality. But if DJI's penchant for amazing camera capabilities holds true, everything is going to be great. And we can't wait to test it out!
What about speed, range, and flight time?
The DJI Mavic Air 2 has ticked all the right boxes so far. It's an elegant and sleek design and the camera should be excellent. What makes or breaks the drone experience for any aficionado is its flying capabilities and flight time in particular. Boy, does the Mavic Air 2 deliver in this regard.
With a 3,500mAh battery helping the sleek design along, the Air 2 offers a flight time of up to 34 minutes!! Ideal conditions aside, you should comfortably be able to have this drone up in the air for around 30 to 31 minutes. It's a huge jump from the 21 minutes you get with the original Mavic Air, and brings the mid-range series up to par with the rest of DJI's portfolio. Despite coming with a larger battery and more weight, The Air 2 retains the maximum flight speed of 68.4kmph (42.5mph) of the previous generation drone.
The Mavic Air 2 comes with a max flight distance of 18.5km and a max HD video transmission range of 10km (FCC Model) with OcuSync 2.0. Keep in mind though that in some countries like Canada, you'll have to keep the drone in sight at all times. So as impressive as the range is, you can't have it fly too far away. Because of its take-off weight of 570g, you'll also have to get at least a basic pilot certificate here.
The new controller makes so much more sense
There's a lot that's different about the new controller for the DJI Mavic Air 2. The biggest change though is one that makes you wonder why it wasn't done before. The phone mount moves from the bottom to the top of the controller. There are a lot of advantages to this. You don't have to worry about your hands covering the phone anymore. The line of sight also changes, and it'll be easier to look from the phone to the drone up in the air if required. The mount seems strong and will firmly hold the phone in place.
The usual toggles, sticks, and buttons return, but in a better layout. The flight mode toggle adds an additional mode too and lets you switch between normal, sport, and tripod. You'll find the stabilizer wheel and the button to shoot video or take photos at the trigger locations. It's a big controller that's a lot more comfortable to hold, and is a decent improvement over previous iterations.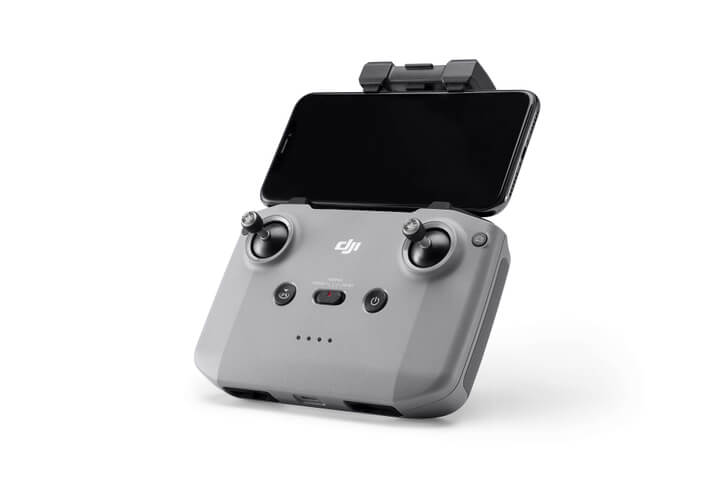 Price and availability
We now come to one of the most important factors – price. DJI manages to impress once again, with the Mavic Air 2 starting at $799. With a mid-range price and some high-end features, the Mavic Air 2 is definitely the consumer drone to beat in 2020 and beyond!
The fly more combo comes with 3 Intelligent Flight batteries, an extra pairs of propellers, battery charging hub, ND filters, battery to power bank adaptor and a shoulder bag to keep both the drone and your accessories safe. This has everything you need to get going. One surprise addition to the fly more combo is the addition of ND Filters Set (ND16/64/256). The fly more combo is priced at $988.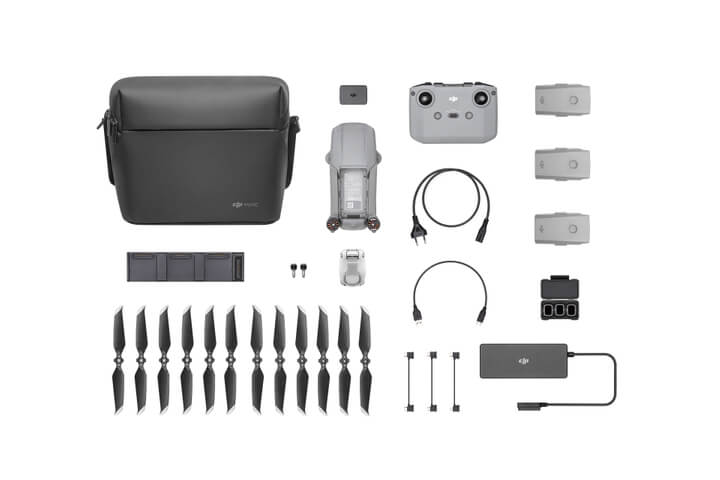 The DJI Mavic Air 2 is available for pre-orders on DJI.com now and shippings start mid may for the US and Canada, this is subject to change depending on your location and time of order.
Order your Mavic Air 2 now on the DJI store.
Is the Air 2 still a little to expensive for your tastes? The DJI Mavic Mini is worthy, and cheaper, alternative that's worth checking out.