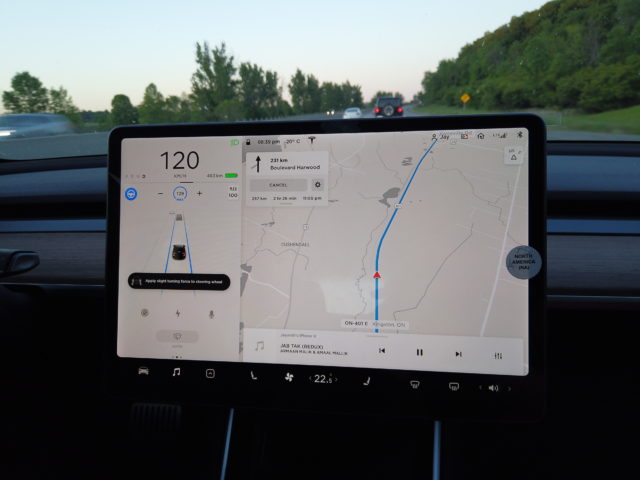 FTC: We may earn money or products from the companies mentioned in this post. More.
Well, we all knew this day would come, and much too soon for anyone's liking, it's just around the corner. Tesla's Premium Connectivity trial offer comes to an end on May 18 for Canadian owners. The writing was on the wall of course. Tesla announced the end of free Premium Connectivity in the US late last year, and introduced a $9.99 per month subscription in its place.
Here, subscriptions will now set back the users by CA$13.99 a month without taxes. In Ontario, this works out to a monthly charge of CA$15.81. There's fantastic news for anyone who's bought a Tesla before July 1, 2018, though. These owners will officially be grandfathered into free Premium Connectivity for the life of the vehicle. There are some eligibility requirements, but almost everyone who's bought the car before that deadline should be okay.
Tesla owners affected by this change were sent an email today. I wouldn't count your lucky stars if you haven't received a notification yet though. Messages will continue to roll out to people as they come closer to the end of their own Premium Connectivity trials.
If you're planning to buy a Tesla Model S, X, or Model 3 now, you can still take advantage of a one-year free trial of the Premium Connectivity package. However, something to keep in mind is that you will have to get the car with a premium interior to get this offer. A Model 3 purchase with standard or partial premium interior will only get you a 30-day trial.
What is Premium Connectivity?
There's the expected hue and cry with the end of this free service, and as a Tesla owner, I totally understand why. Premium Connectivity is almost a necessity if you're looking to elevate your "smart" car driving experience. It adds satellite-view maps with live traffic visualization, streaming music and media, an internet browser, and over-the-air software updates.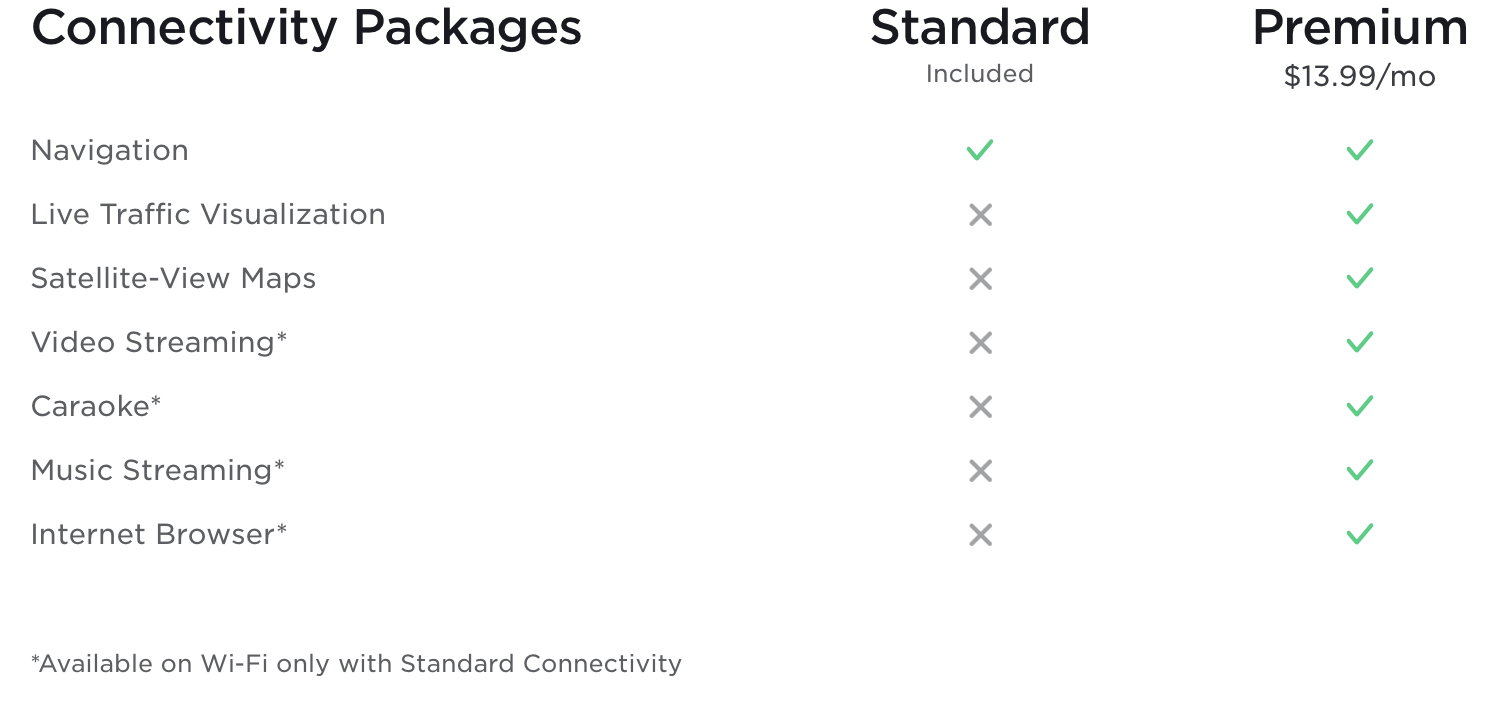 How to subscribe to Premium Connectivity?
You can sign up for this service by logging into your account on Tesla.com. Find the option under the Manage tab, and then select Subscribe under the Premium Connectivity section.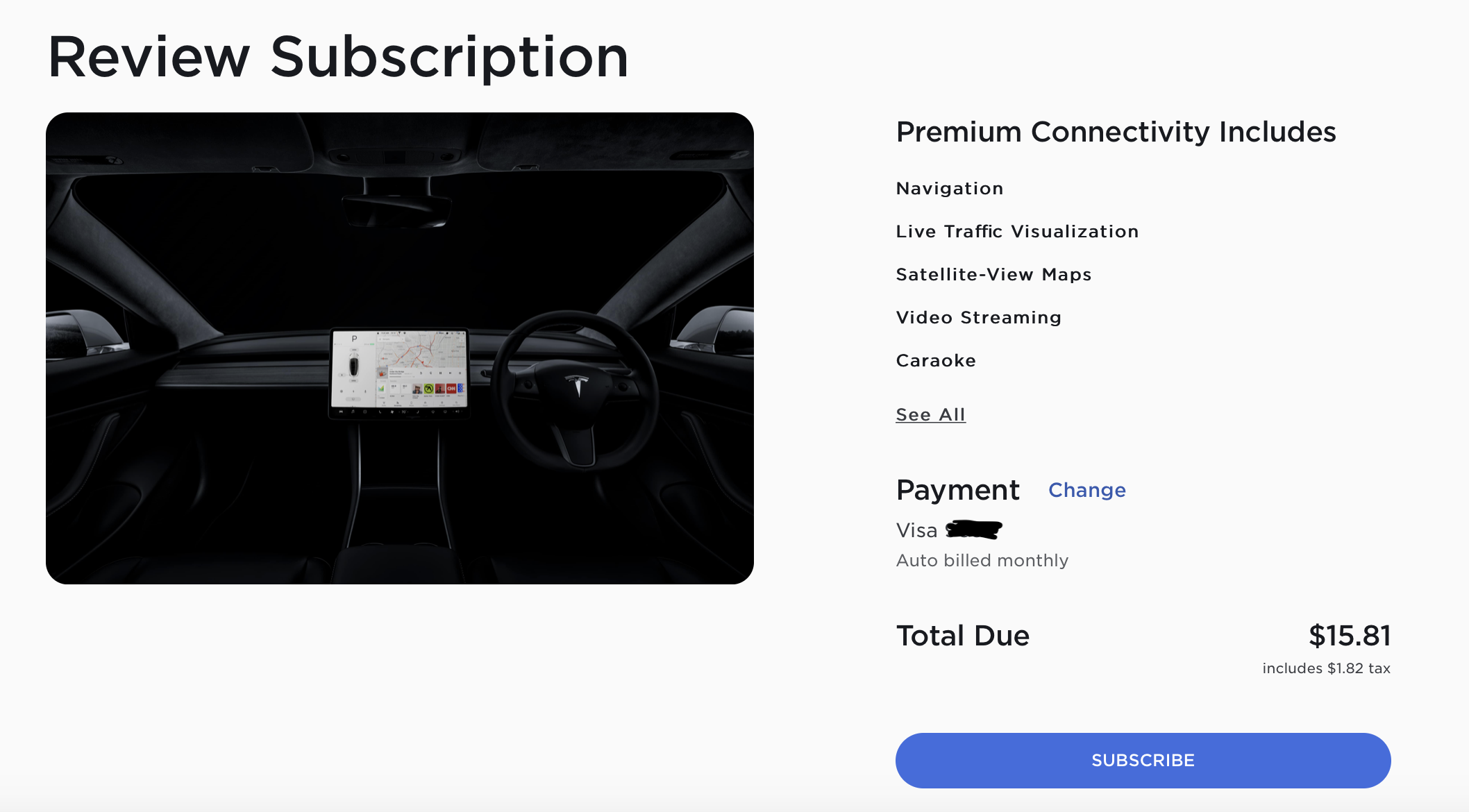 Is it worth $13.99 CAD per month for the extra connectivity and features that require it? Will you be signing up for the Premium Package? Let us know what you think in the comments below.
Don't want to spend on a premium package when you can just use your phone instead? Keep your phone charged on-the-go with the Tesla wireless charging pad by Jeda!